Discover more from Your House Machine
Create a peaceful, organized home through systems, so your house *stays* organized. You don't need bins, you need a system!
5 kinds of trash and how I hide them
The surprising and dangerous lengths I go to in the name of eco-consciousness.
We're about to enter a holiday weekend, which at my house means time to organize! We're about to start a small basement remodel, requiring us to move all our accumulated junk out. I can't wait to purge…our basement is a case study in why it's dangerous to have a lot of storage space. Once the remodel is done we'll have a nice spot for guests to stay, and way less space for junk to accumulate. You may have actual human plans above the ground, but if not consider joining me in doing a big household purge. Hit "reply" and tell me all about your goals if you want a little cheerleading.
On to today's riveting topic: trash!
Here's what trash day looks like at my house:
We try to be eco-conscious and recycle everything we can. My husband is an elementary school teacher, and his lesson on plastic in the ocean is a sobering reminder that things we throw away….don't really go away.
I like to make a middle-aged-lady game out of seeing how little stuff we can throw into the landfill category. Right now we use the smallest garbage bin option our city offers, and they pick it up every other week. I'm feeling pretty good about this as a family of 4.
(If you're wondering about why we separate plastics: City recycling usually can't take most kind of plastic, unfortunately. We used to use Ridwell for our plastic recycling — and I highly recommend them — but now a local grocery chain offers plastic recycling for free so we take our things there.)
But this brings up the obvious question — where do you put all these 5 different categories of trash while you wait to dispose of it? It's a tough problem.
Relatedly, have you ever noticed how slick, beautifully designed kitchens you see online NEVER show where people are supposed to put their trash? 100% of people will have this need but it is just too damn ugly to show.
And with ever growing categories of waste to contend with, the challenge only grows. One must get creative.
Thanks for reading Your House Machine! Subscribe for free to receive new posts and support my work.
Here's how I solved our garbage dilemma:
Garbage and recycling go in the coveted built-in drawers the previous owners of my house helpfully installed.

IKEA compost bin lives under the sink.

The two types of plastic recycling live in the doorway leading to the basement — a large canvas bag holds the hard plastic, and a wire drawer holds plastic film.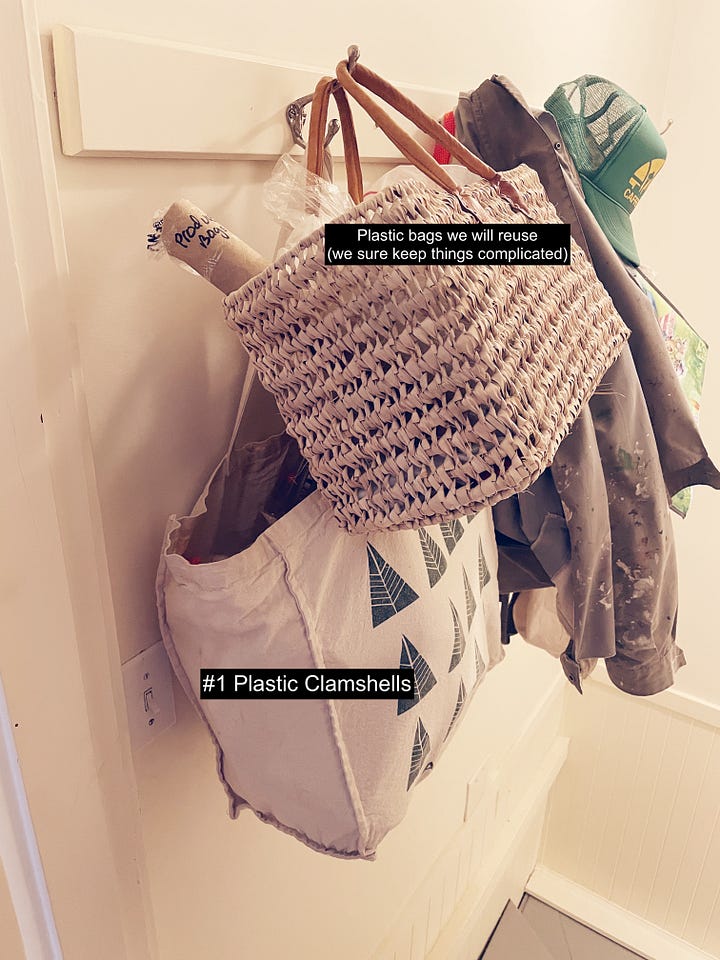 This solution took many iterations to figure out, especially category 3 above. Here's what makes it work:
The plastic waste area is close enough to the kitchen that we will use it — it's just behind a door in the kitchen

It's not in the way of anything else, and nothing else (besides a door) is blocking it

I can put stuff in the designated spot with one hand (surprisingly important!)
Here's what could be better:
In order to put things in either spot, you hold yourself by the doorframe and lean perilously over the basement stairs to accomplish your task. I'm questioning whether it's worth taking my life into my hands just to recycle Amazon packing material.
On this last point, I happened to come across this story in Apartment Therapy as I was drafting this post, and I can't get it out of my mind. It's a bold move, but I might try moving my unnecessarily risky plastic operation into the dining room and into big baskets like this (there's a perfectly-sized IKEA trash can inside each):
I'd probably line each can with reusable plastic bags that I then use to transfer items to the recycling place. My only real hesitation is you can't put things in with just one hand, since you have to use the other hand to open the lid. Will that stop us from doing it? I can't decide…
I love seeing how people have solved their trash and recycling challenges. If you've figured out something clever, I'd love to hear about it!
Link Love
Using ADHD tools (again!) to help kids keep their room clean
Excellent advice to making IKEA trips pleasant, not soul-crushing (I do most of these so can vouch for them!)
A lovely tribute to Heather Armstrong, an important and deeply authentic woman I loved reading back in the day — hard to imagine where we'd be today without her
Your House Machine is on Instagram — follow for organizing in real time, snippets of wisdom, and other goodies