Discover more from Your House Machine
Create a peaceful, organized home through systems, so your house *stays* organized. You don't need bins, you need a system!
What works for Toyota factories can work for your house
Use Japanese automotive industry innovations to simplify your home.
Your House is Your Machine explores a systems-driven approach to home organization and life. If you like what you're reading, perhaps you can share this with your best friend, your mom, or someone you know who dreams of an organized home.
You can imagine the automotive industry takes safety and efficiency seriously. Producing a car is complex and requires immense precision. One innovation from the industry (originally from Ford, later improved by Toyota) is abbreviated 5S or Lean 5S. The grandma version of it is, "A place for everything, and everything in its place."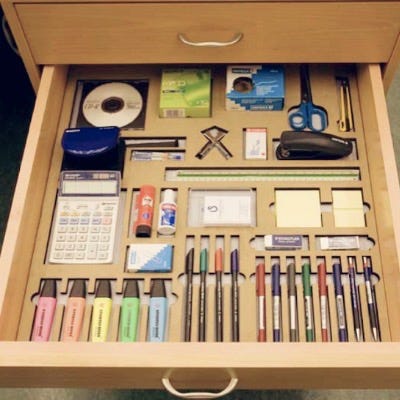 A mechanical engineer friend of mine first told me about 5S and we both thrilled at the idea of applying it to our home.
5S abbreviates five Japanese words: seiri (整理), seiton (整頓), seisō (清掃), seiketsu (清潔), and shitsuke (躾), which translate roughly as:
I realize it seems a little eccentric to bring car manufacturing practices into a home organization context, but hear me out.
It's easy to undervalue domestic life as unserious or trivial, but really life at home is the foundation of everything else you do in the world. It's where you spend a substantial portion of your lived time on Earth.
If you think about it, your shower, your medicine cabinet, your kitchen, and every other room in your house is a workspace with machinery you use for living. Once you start seeing your home as a machine, you can never unsee it.
And while a lot of home organization advice focuses on the first 3 steps—decluttering your things, organizing them and making them look great—5S challenges us to go further and create a plan and system for maintaining this newfound order. That's what really excites me about this method and inspired me to start writing about organization.
Let's get to tactics. How do you apply 5S to your home?
In your shower:
The only things there are the few soaps and bottles you need, each in its place, resolutely performing their sole function and not doubling as clutter.
In your medicine cabinet:
It contains only the tools and products you use, neatly organized. If something isn't getting used, it's removed. What's left is cleaned and orderly.
Imagine a kitchen:
A place for everything and everything in its place. No mystery devices, no clutter drawers.
Each of these areas is a workspace, and what works for a car factory can work for them too.
Here's a detailed example of how I apply 5S to my kids' playroom.
Thanks for reading! If someone forwarded you this, enter your email below to receive weekly-ish home organization advice from Your House is Your Machine: