Discover more from Your House Machine
Create a peaceful, organized home through systems, so your house *stays* organized. You don't need bins, you need a system!
5 quick hacks to conquer household clutter
A special guest spills her secrets
This week's newsletter includes a little experiment — I teamed up with fellow Substacker Yelena Sheremeta, a tax attorney who writes A Portfolio Life, to swap hacks we use to keep our houses tidy despite having little kids and a busy life. Afterwards, I share an update on my ongoing mega clutter purge, complete with photographic evidence.
I love how Yelena looks at life as a portfolio of investments of time and attention, and how we can grow these investments to achieve a return. I'm especially delighted to see how other "left-brained" (in quotes because duh we all have a left brain) women frame things, as I don't often see analytical accounts of domestic life.
5 House Hacks by Yelena Sheremeta
Clutter and disorganization often worsen my anxiety, so I've always strived to create rhythms and routines that help create order in my home and in my life. This is something that has become even more important since I became a mom! So, here are a few of my go-to household system hacks to keep a tidy and peaceful home: 
Designate a day for each chore. We have a white board chart on our fridge where I mark what chore needs to get done each day: washing sheets on Mondays, bathrooms on Tuesday, dusting on Wednesday, etc. This helps avoid the whole trying to remember if you did that chore last week or two weeks ago, or maybe it's been three weeks?! For deep cleaning tasks that don't need to be done weekly, I'll set recurring calendar reminders on my phone. 

Clean dishes before bed. This is a non-negotiable in our house, so much so that we talked about it before we got married (here's a list of 150 questions we covered in our dating days!). The dishes are washed and the kitchen tidied up before we go to bed every night, no matter how tired we are. There's just something about waking up to a clean kitchen! 

The "Donate" bag. I keep a garbage bag in our closet, so when I try something on that no longer fits, I don't like how I look in it, or I keep choosing something else over it, then that item goes in the garbage bag to be donated to Goodwill. For years, I would keep putting these items back in my closet, thinking I'd change my mind but in reality, I rarely do. My motto is: if there are pieces you love more than this piece (because you keep reaching for these other options again and again, and this item never makes the cut), then it's gotta go. Having a literal open bag waiting helps to actually follow through and donate. 

Shared notes. My husband and I have shared notes on our phones for groceries, a packing list of everything we take on trips, and a list of house projects (the "honey do" list). Since we both work full-time, we try to both pitch in with household tasks, and it helps so much to both be on the same page. This way, either one of us can get groceries any time and know exactly what we need. When we go on trips, both of us can pack as we have time. If my husband has an afternoon off to work on a project, he has a list of household projects to choose from and I don't have to feel like I have to remind him that the dryer vent needs cleaning. 

Tidy up as you go. Rebecca is right on this one: if it takes less than two minutes to do, don't leave it for later. If I'm walking through the house, and I notice something needs to be tidied up, I do it right then if it's going to only take me a few minutes. For example, I'll pick up stray toys, throw dirty clothes in the laundry basket, or wipe down a dusty surface. If it's going to take longer than five minutes, I pull up my household to-do list in my notes app and add it in there, so that it's off my mind and that way I know I won't forget to do it later. 
Head over to A Portfolio Life to read Rebecca's 5 house hacks and Yelena's other great writing!
Mega Purge Update (back to Rebecca)
My husband and I joined households 3 years ago (on day 1 of Covid lockdown as it happened), and somehow after doing the basic unpacking and sorting of duplicate items, I never did a deep purge/reorganization of our house. Maybe it was lockdown fatigue, fatigue from getting pregnant and birthing a baby, fatigue from working an intense job for 10 years, or all of the above. But somehow I never had The Urge.
After leaving my job in the fall, I spent this past winter recovering from various health issues and no longer feel fatigue all the time (it's been an amazing recovery - I can share another day perhaps). Now I finally feel like my old self, and my old self loves nothing more than decluttering and organizing. So here I go!
It's been so cathartic to clear out all the closets and weird little nooks in the attic where my husband discovered he could stash his CD collection (we don't own a CD player) and DVD collection (we don't own a DVD player). To be fair, most of our clutter is mine, but it's endearing to see the things he holds on to despite their being so far past their useful date.
The dopamine high I get from seeing belongings piled up on their way out of my house is incomparable — does anyone else feel this way?
Here are some photos of things leaving my home for any other weirdos like me who get a contact high. Then next week I'm going to share a bunch of decluttering tips, like places to easily donate/recycle items so you don't feel so guilty about creating waste.
Subscribe so you don't miss the juicy details!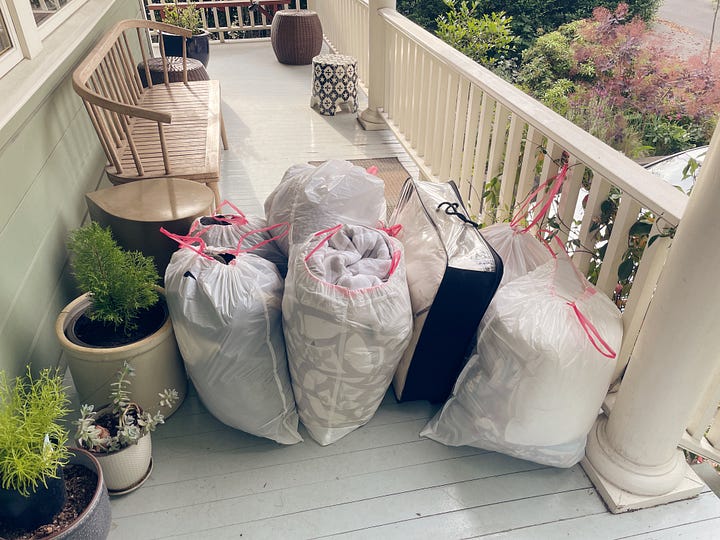 If you don't want to wait till next week, I'm sharing decluttering updates in real time on my Instagram @rebeccainpdx. Sometimes watching someone else do it can help motivate you to do it too — I tell you, I'm on a roll!
Thanks for reading Your House Machine. Subscribe for free to receive new posts and support my work.